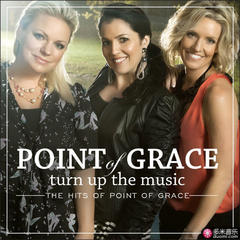 turn up the music - the hits of point of grace
专辑介绍
Genres: Christian & Gospel 2011 Word Entertainment LLC, A Warner/ Curb Company Denise Jones, Heather Floyd and Terry Lang began singing as the Oauchitones in Norman, OK, but added Shelley Phillips in 1991 to form Say So (later Point of Grace) at Ouachita Baptist University in Arkadelphia, AR. The CCM vocal group began touring, and a first-place finish in the group competition at the Christian Artists Seminar in Estes Park, CO caught the eye of the Word label, which signed the quartet, releasing a self-titled debut album in 1993. Their 1995 follow-up, The Whole Truth, expanded the pop-R&B sound of their first album with rock and folk influences. A year later, ...展开全部»
Genres: Christian & Gospel
2011 Word Entertainment LLC, A Warner/ Curb Company

Denise Jones, Heather Floyd and Terry Lang began singing as the Oauchitones in Norman, OK, but added Shelley Phillips in 1991 to form Say So (later Point of Grace) at Ouachita Baptist University in Arkadelphia, AR. The CCM vocal group began touring, and a first-place finish in the group competition at the Christian Artists Seminar in Estes Park, CO caught the eye of the Word label, which signed the quartet, releasing a self-titled debut album in 1993. Their 1995 follow-up, The Whole Truth, expanded the pop-R&B sound of their first album with rock and folk influences. A year later, Life Love & Other Mysteries topped Christian charts and became a platinum best seller. In 1998 Point of Grace returned with Steady On, which, as the title suggests, found them true to the course set out on previous releases. Christmas Story followed in 1999 with a mix of holiday chestnuts and original songs. Their next new album didn´t appear until spring of 2001, but prior to Free to Fly a rarities collection, Rarities & Remixes, was released. Point of Grace´s next project was an ambitious one. They organized a series of concerts and conferences targeted at teenage girls with ample time at each meeting for question and answer sessions. A companion CD to the conferences, Girls of Grace, was released in 2002 that featured a host of female Christian artists all interested in addressing the issues and pitfalls of growing up. The next year a double-CD retrospective, 24, was released with many of POG´s hits and one new song.