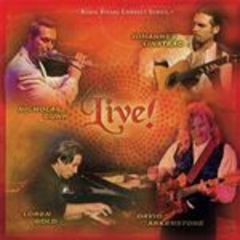 专辑介绍
I first heard David Arkenstone several decades ago on a CD called In The Wake of the Wind and I became a fan. Then, maybe a decade ago, I came across flutist Nicholas Gunn doing a series of albums about the deserts of Arizona and the Grand Canyon, and I got hooked on him. About two years ago I heard an album by Johannes Linstead and found him to be one of the catchiest new modern flamenco guitar players to come along. I have never heard pianist Loren Gold before, but he apparently has a couple of CDs out and tours with pop acts. So all four of these acts are signed to the Gemini Sun label after kicking around elsewhere over the years (apparently Gunn runs the l...展开全部»
I first heard David Arkenstone several decades ago on a CD called In The Wake of the Wind and I became a fan. Then, maybe a decade ago, I came across flutist Nicholas Gunn doing a series of albums about the deserts of Arizona and the Grand Canyon, and I got hooked on him. About two years ago I heard an album by Johannes Linstead and found him to be one of the catchiest new modern flamenco guitar players to come along. I have never heard pianist Loren Gold before, but he apparently has a couple of CDs out and tours with pop acts.

So all four of these acts are signed to the Gemini Sun label after kicking around elsewhere over the years (apparently Gunn runs the label). Since all four of these artists are comfortable performing in concert (which many so-called new age artists aren´t), they decided to do a concert together and record and film it. The artists all get interviewed briefly too (although I did not care for that part much).

This combination CD and DVD package is the result, and it is actually quite exciting. The concert moves rapidly with a lot of energy. Each musician gets a spotlight section and then they join together for the 7:30 encore piece. They have one band that plays behind all of them including a couple of guys on drums and percussion giving a world-beat flair to many of the tunes.

Very seldom do new age artists put out concert albums. Many of them are simply studio hounds and don´t play live. A few play select shows, but seldom tour. It probably is not cost-effective. And when you do see one in concert, it often is at a Borders or Barnes & Noble store, plus the artist is playing by themselves to backing tracks, and the atmosphere is not conducive to really enjoying the abbreviated show. So to see four really good musicians with a great band perform in a regular concert hall, and hear them get to stretch out on several tunes (one of Arkenstone´s compositions is over eight minutes), and jam together and with the band, it is a real thrill. And even though this package costs a little bit more than usual because it contains a CD and a DVD, it is worth it because none of us get much of a chance to enjoy this kind of music in a concert setting very often. I was not familiar with most of the material, but apparently all of it has been on the acts´ various studio albums. So if you already know the tunes, you will probably really dig these concert versions. According to the record company´s written background information, several of these live versions are considerably different than the studio versions (in one case the studio saxophone is replaced in concert by flute, for example).

I highly recommend this recording for anyone who likes energetic, non-synthesized, mostly-acoustic new age music; and for anyone who simply likes a good concert film of contemporary instrumental musicians playing their butts off.