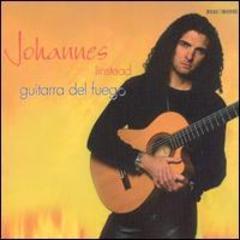 专辑介绍
I am a long-time fan of nouveau flamenco, ever since I first heard Strunz and Farah´s Primal Magic on the radio while driving through Austin. I even stopped to call the radio station to find out who they were. Recently, I was in Borders Books and heard the strains of Guitarra del Fuego wafting throughout the store. It sounded so much like something Strunz and Farah would do, I went to the counter where the CD was on to inquire about their new album. The clerk handed me the jewel box and to my surprise it was not Strunz and Farah, but Johannes Linstead of whom I had never heard. I blanched at the price, but stuck around to listen to the rest of the CD, and resol...展开全部»
I am a long-time fan of nouveau flamenco, ever since I first heard Strunz and Farah´s Primal Magic on the radio while driving through Austin. I even stopped to call the radio station to find out who they were. Recently, I was in Borders Books and heard the strains of Guitarra del Fuego wafting throughout the store. It sounded so much like something Strunz and Farah would do, I went to the counter where the CD was on to inquire about their new album. The clerk handed me the jewel box and to my surprise it was not Strunz and Farah, but Johannes Linstead of whom I had never heard. I blanched at the price, but stuck around to listen to the rest of the CD, and resolved to order it here immediately upon returning home (at a MUCH better price).
Now that I have listened to it a half-dozen times, I have but one word for it:enchanting. There is not a weak song on Guitarra del Fuego. Every one, whether slow and melancholy or uptempo and uplifting, is eminently listenable and with no hard edges, is perfect for the office. That doesn´t mean that it is saccharine or bland, on the contrary. Linstead is a virtuoso guitarist who moves effortlessly from laid-back rhythms to furious flamenco attack. One can detect in his music influences not just from the gypsies, but from Spanish and Moorish cadences.
I don´t have a favorite cut as I like the entire CD. Strunz and Farah, Lara and Reyes, Ottmar Liebert and now, Johannes Linstead. The flamenco machine is rolling on..