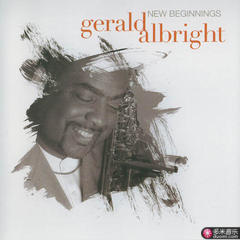 专辑介绍
Make no mistake: Gerald Albright has chops -- serious chops -- not to mention strong improvisational skills (on both tenor and alto sax) and a healthy amount of gritty, down-home soulfulness. But having a lot of positive attributes and actually making the most of them are two different things -- and while the saxman has excelled at times (1991´s Live at Birdland West remains his most essential disc), he has also delivered his share of forgettable, knee-jerk fluff (1989´s Bermuda Nights and 1990´s Dream Come True were among the worst offenders). Drawing on both soul-jazz and smooth jazz, New Beginnings is a mixed bag that isn´t in a class with Live at Birdlan...展开全部»
Make no mistake: Gerald Albright has chops -- serious chops -- not to mention strong improvisational skills (on both tenor and alto sax) and a healthy amount of gritty, down-home soulfulness. But having a lot of positive attributes and actually making the most of them are two different things -- and while the saxman has excelled at times (1991´s
Live at Birdland West
remains his most essential disc), he has also delivered his share of forgettable, knee-jerk fluff (1989´s
Bermuda Nights
and 1990´s
Dream Come True
were among the worst offenders). Drawing on both soul-jazz and smooth jazz, New Beginnings is a mixed bag that isn´t in a class with
Live at Birdland West
but is still one of his more worthwhile commercial outings. There are some weak tracks, to be sure; Albright´s note-for-note cover of
the Whispers
´ 1979 hit "And the Beat Goes On" pales in comparison to the original version -- and a few other automatic-pilot tracks are equally boring. But when Albright lets loose, New Beginnings becomes a treat that brings to mind
Grover Washington, Jr.
and early
Ronnie Laws
rather than
Najee
,
Kenny G.
, or
George Howard
. Albright really soars on a gospel-drenched performance of
Hoagy Carmichael
´s "Georgia on My Mind," and he has some enjoyably funky moments on "Big Shoes" and "We Got the Groove" (both of which keyboardist
Jeff Lorber
co-wrote with the saxman) as well as the title track (which features
Patrice Rushen
on acoustic piano). Is Albright capable of much more than what he does on New Beginnings? No question. Albright is quite capable of providing a five-star masterpiece, which New Beginnings is not. Nonetheless, this 2006 release has more pluses than minuses -- and it is certainly superior to
Dream Come True
,
Bermuda Nights
, and some of the other duds he recorded for Atlantic in the ´80s and ´90s.