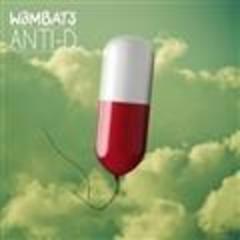 专辑介绍
With a title like Anti D you would be correct in predicting that the new single from The Wombats would be less lively than their previous material…. Taken from their highly anticipated new album, This Modern Glitch, out later on this month, Anti D offers a mellow, slow paced outlook to the world of anti-depressants and the people they are prescribed to. Kicking in with Matthew Murphy's distinguished vocals stating "please allow me to be your antidepressant" it seems a whole world apart from their classic indie anthems Let's Dance To Joy Division and Backfire At The Disco. Although it may not leave a lasting impression after one listen, the song begins...展开全部»
With a title like Anti D you would be correct in predicting that the new single from The Wombats would be less lively than their previous material….

Taken from their highly anticipated new album, This Modern Glitch, out later on this month, Anti D offers a mellow, slow paced outlook to the world of anti-depressants and the people they are prescribed to.
Kicking in with Matthew Murphy's distinguished vocals stating "please allow me to be your antidepressant" it seems a whole world apart from their classic indie anthems Let's Dance To Joy Division and Backfire At The Disco.
Although it may not leave a lasting impression after one listen, the song begins to grow and appreciation is drawn to the fine details such as the unexpected strings, and the gradual crescendo. But there's still a bit of The Wombats we all know present in the use of the slightly droning 'ah ah ahs' that have become a long established cliché for the band.
There certainly seems to be a sense of maturity in the new Wombats style, which could maybe help them steer away from the childish pop image they seem to have made for themselves, and back into the indie spectrum.