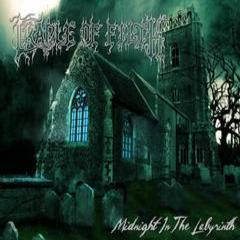 midnight in the labyrinth
专辑介绍
Midnight in the Labyrinth is a orchestral album by English extreme metal band Cradle of Filth. The songs selected are from the band´s first four releases. It will be released to coincide with Record Store Day on April 21st in participating countries, and sees a general release across other countries, as a limited edition two-disc set exclusively including "Goetia (Invoking the Unclean)", a thirteen minute "aural séance". Disc One features narration by Dani Filth, plus additional vocals from Sarah Jezebel Deva. Disc Two contains the same recordings minus the vocals. The orchestral version of "Summer Dying Fast" appeared as a teaser on the EP Evermore Darkly, ...展开全部»
Midnight in the Labyrinth is a orchestral album by English extreme metal band Cradle of Filth. The songs selected are from the band´s first four releases.

It will be released to coincide with Record Store Day on April 21st in participating countries, and sees a general release across other countries, as a limited edition two-disc set exclusively including "Goetia (Invoking the Unclean)", a thirteen minute "aural séance". Disc One features narration by Dani Filth, plus additional vocals from Sarah Jezebel Deva. Disc Two contains the same recordings minus the vocals.

The orchestral version of "Summer Dying Fast" appeared as a teaser on the EP Evermore Darkly, and the narrated version of "A Gothic Romance (Red Roses for the Devil´s Whore)" was released online, preceeding the album on April 4th.

According to vocalist Dani Filth, the album will "reinvent" tracks from the band´s first four albums and include "full soundtrack-quality stuff... with choirs, strings and some narration". Filth wrote in an online update:

"All songs will be fully orchestrated akin to a horror movie soundtrack (think Danny Elfman, John Williams, Christopher Young, etc.) and [the record is] comprised solely of tracks from our first four releases - 1994´s The Principle of Evil Made Flesh; the 1996 EP V Empire; 1996´s Dusk... and Her Embrace and 1998´s Cruelty and the Beast - [with] "Funeral in Carpathia" being my favorite conversion thus far."
Guitarist Paul Allender stated in an interview:

"One thing I want to do the next time we gig, is play some of these old songs live but have the whole new orchestrations on backing track. Martin [Skaroupka] plays to a click track anyhow, and we´ve really got clicks set up for everything... Everyone seems to have decided they want to go with it."

Sarah Jezebel Deva announced via her Facebook page that she would be re-joining Cradle of Filth for this release:

"In 2008, I parted ways with Cradle of Filth to pursue a life in Australia... and to go it alone as a solo musician. I know a lot of fans were disappointed with the departure and, until now, whenever a fan asks [if I´ll ever work with Cradle of Filth again], the answer has been no! Well, last week, [Dani] Filth sent me an email, and after many chats I have decided to take him up on his offer to participate on the new orchestral album Midnight in the Labyrinth. I hope this will make some of you happy..."