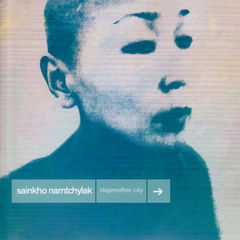 专辑介绍
by Thom Jurek For decades now, Tuvan vocalist Sainkho Namtchylak has walked a tightrope between the folk traditions of her native country and the vanguard strains of free improvisation and free jazz of her adopted Europe. Until now, she has never attempted to record an album with "accessible" material on it, nor, in this writer´s memory, has she ever sung in English. On Stepmother City, one of the most deeply and pervasive spiritual recordings in Namtchylak´s catalog (the liner notes are by a Buddhist monk from the fifth century BC), she makes use not only of Western language and song forms, but the adornments of electronica, alongside double basses, hand perc...展开全部»
by Thom Jurek
For decades now, Tuvan vocalist Sainkho Namtchylak has walked a tightrope between the folk traditions of her native country and the vanguard strains of free improvisation and free jazz of her adopted Europe. Until now, she has never attempted to record an album with "accessible" material on it, nor, in this writer´s memory, has she ever sung in English. On Stepmother City, one of the most deeply and pervasive spiritual recordings in Namtchylak´s catalog (the liner notes are by a Buddhist monk from the fifth century BC), she makes use not only of Western language and song forms, but the adornments of electronica, alongside double basses, hand percussion, shakuhachi flutes, and duduks. The album begins with a droning modal keyboard and flute line, whereupon Namtchylak enters in true overtone style, reaching deep into her heart for wordless sounds that convey the sacred nature of the proceedings. "Dance of the Eagle" straddles a double bass, hand percussion on dumbeks, and a soprano saxophone (played by
Ned Rothenberg
) with an open-tuned guitar playing a slide rhythm as she chants in Tuvan scale. Her backing vocalists engage the overtones as well, creating a drone choir. Other tracks, such as "Let the Sunshine," are full of loops and reggae rhythms, as the vocalist states her case plainly to the English-speaking world. "Ritual Virtuality," "Tuva Blues," and "Old Melodie" all juxtapose the old, the very old, and the strikingly new against each other to establish tension and release while engaging one another in a discussion of interplay and collaborative synthesis. And while improvisation certainly plays a role here, these are the tightest pieces Namtchylak has ever recorded. The album ends with "Boomerang," a song that features the singer in a high voice, cresting a wave created by a jungle rhythm and the gorgeous double-bass playing of
Paolina Dalla Porta
. In sum, this is a wonderfully compelling synthesis of styles, voices, musics, and articulations. Hence it is proof that despite her long career, Namtchylak is still moving forward, sifting through the ambiences and textures of music around the world, looking for illumination in the sonic heart of the dharma she practices.