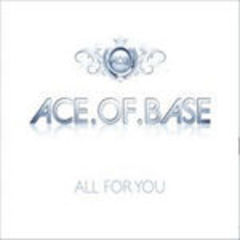 专辑介绍
Comprised of vocalists Jenny Berggren and Linn Berggren, and keyboardists Jonas "Joker" Berggren and Ulf "Buddah" Ekberg, the Swedish quartet Ace of Base became a phenomenally popular international act with their 1993 debut album, The Sign. Ace of Base´s simple, melodic Euro-disco was equally popular on radio and in the clubs, earning the quartet three U.S. Top Ten singles — "All That She Wants," "Don´t Turn Around," and "The Sign," which spent six weeks at number one. Before the quartet formed in 1990, sisters Jenny and Linn Berggren sang in local church choirs in Gothenburg, Sweden. Their brother, Jonas, played synthesizers and wrote songs with Ulf Ekberg...展开全部»
Comprised of vocalists Jenny Berggren and Linn Berggren, and keyboardists Jonas "Joker" Berggren and Ulf "Buddah" Ekberg, the Swedish quartet Ace of Base became a phenomenally popular international act with their 1993 debut album, The Sign. Ace of Base´s simple, melodic Euro-disco was equally popular on radio and in the clubs, earning the quartet three U.S. Top Ten singles — "All That She Wants," "Don´t Turn Around," and "The Sign," which spent six weeks at number one.

Before the quartet formed in 1990, sisters Jenny and Linn Berggren sang in local church choirs in Gothenburg, Sweden. Their brother, Jonas, played synthesizers and wrote songs with Ulf Ekberg. Eventually, Jonas and Ulf recruited Jenny and Linn to sing with them, and the quartet began playing dance music at local clubs in the late summer of 1990. Within a year, the group signed with Mega Records and released their debut single, "Wheel of Fortune," in 1992. By that time, the quartet had joined forces with John Ballard, who produced their recordings and wrote the majority of their songs; occasionally, Ballard co-wrote with Jonas Berggren. "Wheel of Fortune" became a hit across Scandinavia, and soon the German-based record label Metronome signed a European distribution deal with the group. "All That She Wants" was Ace of Base´s first single in Europe and, thanks to heavy exposure on MTV, the song became a number one hit in ten different countries. In the spring of 1993, Ace of Base released their European debut album, Happy Nation.

"All That She Wants" was released in America in the fall of 1993 and quickly went platinum, beginning a string of platinum Top Ten singles in the U.S.. Released in the fall of 1993, Ace of Base´s American debut album The Sign — a reconfigured version of Happy Nation, featuring four new songs — quickly sold nearly two million copies in the U.S.. Throughout 1994, Ace of Base dominated radio in America and Europe as "All That She Wants," "Don´t Turn Around," and "The Sign" received heavy airplay on a number of radio formats, including Top 40, adult contemporary, urban, and, bizarrely, modern rock. By the end of the year, The Sign had sold over eight million copies in the U.S. alone. Ace of Base was nominated for three Grammys that year, including Best New Artist.

Ace of Base released their second album, The Bridge, in the fall of 1995. Although it went platinum in its first six months of release, the record failed to duplicate the remarkable multi-platinum success of The Sign. After a three-year-hiatus, the duo returned with Cruel Summer, which suffered a similar fate. 2000 saw the release of Greatest Hits, a blend of original singles and remixes.